A Commitment to Delivering Total Customer Satisfaction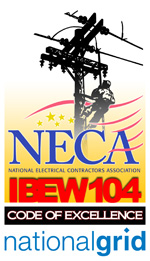 The Code of Excellence is an IBEW industry-wide program of job responsibility, adopted locally by Local Union 104, that fosters highest quality and quantity of work by implementing a system of premiere work practices for labor and management.
In doing so, the Code of Excellence sets high performance benchmarks for both labor and management that allows them, together, to provide total and complete customer satisfaction.
At its core, the, the Code of Excellence serves to produce projects that are built on time, built under budget, and built right – the first time, every time!

IBEW 104 Code Of Excellence (PDF)
Code Of Excellence – Additional Info (PDF)
Local 104's Commitment to Serving Our Contractors
The Code of Excellence addresses the responsibilities of Local Union 104 and its members so that we can best serve our contractors – by bringing out the best in our linemen so that signatory contractors can satisfy their customers' needs.
Importantly, the Code of Excellence has been laid out in black and white and is instituted in all labor agreements negotiated between signatory contractors and IBEW Local 104.
By committing to a Code of Excellence, Local 104 has taken on the responsibility to set an "excellence" standard of work performed, with a zero tolerance of job interruptions, work stoppages, or other potential member-initiated jobsite problems.