The International Brotherhood of Electrical Workers Local 104
Across New England, when your power goes out, we go to work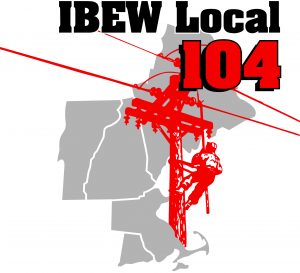 to create and maintain power for area businesses and residents.
IBEW Local 104 works behind the lines to elevate the entire outside electrical industry to benefit each of our members, signatory contractors and, ultimately, each and every electrical consumer in the region.
We actively support issues that advance our employment, moral, intellectual and social conditions in order to protect our members, their families and our communities.
Local 104 is proud of the history and prosperity of our region and actively promote New England as an ideal place to live, work and do business, as our members have done for over 100 years.
We are IBEW Local 104 Linemen. We keep the power on!
IBEW Local 104: Keeping an Entire Region on the Move
For over 20 years, IBEW Local 104 has powered the routes of the Massachusetts Bay Transit Authority, which operates the busiest light rail system and fourth busiest subway system in the nation.
In order for the MBTA to transport over 1.5 million people throughout the Greater Boston area every day, the members of IBEW Local 104 maintain and rebuild extensive overhead and underground electrical systems of high-voltage cables, substations and catenary wires that extend over hundreds of miles.
They're our bloodline. If we don't have the members coming out of 104, with the experience that they have, then we'd be in trouble…

John Galofaro, Supervisor of Transmission and Distribution, MBTA