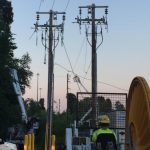 Concord, NH – Thursday's continuation of the Adjudicative hearings regarding the Northern Pass Project brings a new panel of witnesses for the Counsel for the Public. The Brattle Group, the Counsel for the Public's market economics panel spent the day fielding questions regarding the future of the clean energy market and the potential impact the Northern Pass Project will have on both the energy market and New Hampshire energy consumers. Much of today's hearing was spent articulating the differences in the Brattle Group's energy report when compared to the official report prepared by the project team.
Attorney Pappas, the Counsel for the Public began with a line of questioning attempting to discern whether Hydro Quebec, the source of the Clean energy provided for the proposed project, would have the energy capacity to supply the Northern Pass. The witnesses established that their own numbers were based off of estimates, and that the information should not be considered to be truly predictive.
Attorney Pappas continued by asking the witnesses if, in their own proprietary report, they found any potential benefits of the Northern Pass that the project's own report had not found. The witnesses affirmed that there were benefits mentioned in their report that had not been included in the project report's findings – namely a potential decrease in gas prices for New Hampshire consumers, in addition they found that there was also a potential for a beneficial impact on electrical prices as well, which they noted in their report. The witnesses also mentioned that if one were to assume some of the variables that the project report had noted, that they would be in agreement that the Northern Pass would likely be good for New Hampshire energy customers, and lower energy prices.
During Mr. Pappas questioning, however, it was stated that the panel had not expressly looked for, or explored potential benefits of the Northern Pass Project that the project's report had not accented or found relevant. Had they been tasked with further researching the Northern Pass Project for other unseen benefits, it is entirely possible that many additional positive impacts could have been uncovered.
After the lunch break Attorney Needleman, representing the Northern Pass Project further questioned the Witnesses' report against the project's report. He found through his line of questioning that not only did the Brattle Group think that the project report's Analysis of Energy Market Benefits was reasonable and that they, themselves adopted the project report's updated results. The panel also confirmed that in one of their projections, the there would be an average energy market benefit of $9 million per year over 11-year period.
Attorney Needleman then used a letter from the President of Hydro Quebec to indicate that no new hydro power will be developed to support the Northern Pass Project, meaning that, among other things, Hydro Quebec currently has more than enough surplus energy to support necessary power for the Northern Pass Transmission line.