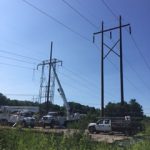 Concord, NH – So called experts called by the Counsel for the Public continued in their second day of witness testimony today, fielding examination from a number of anti-project representatives, as well as Attorney Needleman representing the Northern Pass project, and Attorney Pappas for the Counsel for the Public.
In the morning session, Mr. Van Houten representing the Abutting Property Owners – Whitefield, Dalton, and Bethlehem raised a number of questions regarding access points and used road material. The construction experts affirmed that in the proposed area that the project can be built using the currently existing access points. They also re-confirmed the proposed tower height has been agreed upon and will not change. The construction experts also said that the proposed single lane closure within one construction season was a reasonable estimate.
Later in the session, Mr. Cote representing the Deerfield Abutters used his time to question the accuracy of the Northern Pass' proposed timeline in regards to the Deerfield wetlands. The witness panel answered that the proposed Northern Pass construction timeline in the wetlands was certainly possible.
During his cross-examination of the witnesses, Attorney Needleman representing the Northern Pass project started out by questioning the construction experts' backgrounds. First he question's Mr. David Taylor, establishing that Mr. Taylor is not a licensed engineer, nor has he ever worked on a project of the Northern Pass' size before. Following his questioning of Mr. Taylor, he questioned Mr. Zisk, who is a licensed Engineer, but not licensed in the State of New Hampshire.
Attorney Needleman continued with a line of questioning to the witnesses, they agreed in quick succession that the wetland conditions and requirements are standard for a project such as the Northern Pass, that the Right of Way clearing is normal, and the construction experts agreed that the expected levels of noise, dust, and potential road damage are not just standard, but commonplace. Attorney Needleman brought up a point that the witnesses had touched on in their pre-filed testimony stating that soil erosion and sediment runoff could happen if Best Management Practices are not adhered to – Attorney Needleman then made clear that the Northern Pass had obtained alteration of terrain permits, which include Best Management Practices in regards to Soil and Sediment runoff and erosion. Attorney Needleman then asked the witnesses if the Northern Pass adheres to the conditions in the permit it has obtained, as it plans to, whether there would be any adverse erosion, or negative sediment runoff. The Counsel for the Public's expert witnesses agreed there would not.
The next SEC hearing will be on Thursday, Oct. 26.