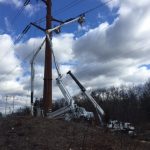 Concord, NH – During today's full-day SEC adjudicative hearings, the Counsel for the Public called individuals they called experts on construction to answer a series of questions lasting throughout the morning and afternoon hearing sessions. The attorney for the Counsel for the Public asked a series of questions surrounding the Northern Pass project's initial Construction Panel testimony, ranging from estimated equipment needed for the project, amount of fill needed for certain areas, and potential logistical plans for the project.
Attorney Danielle Pacik, Counsel for the City of Concord and Spokesperson for Municipal Group 3 South asked a range of questions regarding the impact of the Northern Pass project to Concord and the surrounding area. Attorney Pacik was specifically interested in the duration of increased overall noise levels due to the project – the witness for the Construction Experts affirmed that what the report termed "A relatively minor increase in the overall noise level, and may be ignored or generally tolerated" would likely not even last six months. Attorney Pacik continued her line of questioning regarding the time windows that the Northern Pass project would be operating in, the witnesses stated that the occasional additional work hours which were proposed were not uncommon for construction projects.
Several times throughout the hearings SEC Chairman Honigberg sustained objections against multiple anti-project attorneys during the day for attempting to expand the witness' pre-filed testimony, and asking the Construction Experts to speculate. One objection in particular led to disagreement between Chairman Honigberg and Attorney Manzelli who Represents the Society for Protection of New Hampshire Forests. Attorney Manzelli attempted to continue a line of questioning regarding the Portland Natural Gas Pipeline, which has long been established as sharing a co-location with the Northern Pass project. Attorney Manzelli attempted to question the Counsel for the Public Construction Experts on any concern they might have for potential co-location. Attorney Needleman objected, as the location of the pipeline has long been known, and had the witnesses had any concern they would have been included in their pre-trial testimonies. Attorney Manzelli disagreed with Chairman Honigberg's decision, arguing that her questioning was being limited. Chairman Honigberg repeatedly asked Attorney Manzelli to continue on to her next question, as the protest was delaying the hearing. Attorney Manzelli claimed she was not trying to put the proceedings on hold – Chairman Honigberg interjected stating, "Yes, actually, yes actually, you do; but you're not going to make that request because it would be outrageous."
The next SEC hearing will be on Tuesday, Oct. 24.