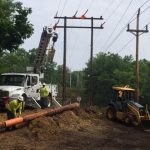 Concord, NH – A full day of Site Evaluation Committee hearings continued today beginning at 9:00 am with a panel of witnesses representing the Clarksville-Stewartstown Combined Group of Intervenors, the witnesses were comprised of anti-project intervenors who led off the day's hearing with a 20 minute video which had been introduced the the committee as a "video walkthrough" of the pass project. Upon completion of the video and intervenor questions, attorney Jeremy Walker, representing the applicant asked a series of questions to the panel of witnesses.
The first question was directed at a member of the Clarksville-Stewartstwon Combine Group of Intervenors, a Mr. Roderick McAllaster. Mr. McAllaster had asserted that he had received no communication whatsoever from the Northern Pass project in regards to his farm, which he had claimed would be impacted negatively due to the pass project. Attorney Walker asked Mr. McAllaster if it was true that the Northern Pass project had attempted to reach out to him by both letter and phone multiple times to address his concerns regarding the project. Mr. McAllaster continued his assertion that he had received no such communication – Attorney Walker asked "Would it surprise you that Northern Pass still would like to meet with you to address your concerns?" upon further conversation Attorney Walker and Mr. McAllaster agreed to meet after his testimony to address his specific concerns, indicating a continued positive effort by the Northern Pass project to ensure that there is an upfront willingness to find an individual beneficial solution to all parties involved.
Further questioning the witness panel concerning the video, Mr. Walker asked Mr. Bradley Thompson of the Clarksville-Stewartstown Combined Group of Intervenors about his intentions behind the video – which he had claimed would provide the SEC with a guided tour of the proposed project route. Attorney Walker pointed out that the video, including anti-pass interviews by intervenors whose towns highlighted in the video were not a part of the proposed pass route and extensively edited footage was really more of an anti-project advocacy project than a route walkthrough.
In the afternoon session of the hearings anti-project groups questioned a professional Land Surveyor named Stephen Nix regarding the applicant's procedure of surveying in regards to Right of Way. Mr. Nix asserted several times while being examined by the intervenors that the Land Surveying provided by the applicant was inadequate. However, upon questioning by Attorney Hodgman for the Northern Pass project, Mr. Nix was unable to explain how this was in fact the case since the proposed surveying plans are preliminary and that the Northern Pass team has been working diligently in conjunction with the DOT to meet all requirements and concerns associated with Rights of Way.
The next SEC hearing will be on Monday, Oct. 23.