Lawyers question witnesses during Site Evaluation Committee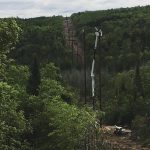 The Site Evaluation Committee met at 1 p.m. to hear from witnesses from various groups trying to block the Northern Pass project. The purpose of these hearings is for lawyers for both sides to ask questions about the witnesses' pre-filed testimony, or to get new information in the form of expert opinion and analysis. At numerous points during today's proceedings, SEC Chairman Martin Honigberg found that the Counsel for the Public, as well as lawyers for the project opponents, were essentially delaying the proceedings by asking questions that simply expanded on the anti-project witnesses' pre-filed testimony, and stopped them from doing so.
Chairman Honigberg also sustained objections to questions from anti-project lawyers to their own clients asking them to speculate on topics for which they have no expertise, such as property values or impacts of the construction project on wetlands. Rather than being able to provide any new information on these topics, Honigberg found the anti-project witnesses were simply there to reiterate their opposition to the project.
On several occasions, the Counsel for the Public asked anti-project witnesses whether they would be able to see Northern Pass towers from their property, and those witnesses had answers that differed substantially from the scientific analysis conducted by visual impact experts. In one case, the Northern Pass team presented photos from specific locations that completely contradicted the assertion by the witness that towers would be visible from Christine Lake. Despite no towers being visible in the photo, the witness claimed that, in her opinion, the towers were visible.
The next SEC hearing will be on Friday, Oct. 20.