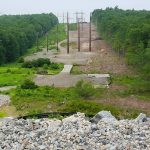 Concord, NH – In a shortened afternoon hearing, Tuesday's SEC hearing focused mostly on attempts by the Northern Pass Project to agree on a Memorandum of Understanding (MOU) with towns in the proposed project area. Witnesses for the hearing were Margaret Connors, of Sugar Hill, for Municipal Group 2. Following Ms. Connors, witnesses Wendy Hendersom, and Frank Lombardio, Municipal Group 1- South took the witness stand.
Attorney Needleman, representing the Applicant, asked Ms. Connors from Sugar Hill why there was not a substantive response to the numerous attempts the applicant had made to reach out to Sugar Hill to come to an MOU agreement. Ms. Connors stated that there was no agreement, because the town of Sugar Hill opposes the NPT strongly and does not trust the Applicant.
Attorney Needleman then asserts that the concerns that Ms. Connors, and Sugar Hill share about the project would have been addressed if Sugar Hill had agreed to simply meet with the applicant. However because of the towns refusal to interact with the Applicant there is no mitigation in their concerns towards the project. When SEC chairman Oldenburg asked for a clarification, witness Connors responded that the town of Sugar Hill was not sure about where the project would really go, and had heard that the maps the Applicant had presented were inaccurate.
During the Applicant's cross examination of witnesses Wendy Hersom and Frank Lombardi of Whitefield, Attorney Walker first establishes that there have been several discussions that the applicants have had with the town of Whitefield. Attorney Walker then asks if the witnesses knew if since July 24, 2017 (Wherein an attorney for the applicant sent a revised MOU reflecting Whitefield's comments to the Whitefield attorney for review by the Town) the town had not responded, nor contacted the Applicant with any additional concerns. Ms. Henderson states that she does not know of any written communications. She also says that the town just opposes the project, as proposed, and that they* are willing to communicate with the Applicant to try and resolve their concerns, even though they have not attempted to continue the communication in regards to the MOU.
Again following up on the applicant's line of questioning chairman Oldenburg brought up the MOUs by asking if the town ever considered responding to the MOU. The witness stated that other towns had engaged in it, though they don't think it would have been helpful. Chairman Oldenburg asked why they didn't' just cross out the things in the revised MOU, basically re-wording it to be more binding, and sending it back to the applicant to see what happened. The witness indicated that the MOU wasn't the biggest concern that they had.