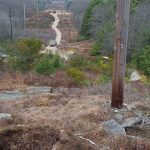 Concord, NH – Monday begins the expected final week of hearings for the Northern Pass Transmission Project. A full day of hearings brings a witness from Municipal Group 1-South, Eric Meth, who submitted pre-testimony mostly dealing with issues related to property values, road closures, and a declined memorandum of understanding between the Applicant and the Town of Franconia. After the lunch break, a panel of witnesses from the Bethlehem-Plymouth Abutters group took the stand. The questions covered a range of subjects, but focused significantly on the properties of Fly Ash, a coal combustion byproduct.
Starting the day, witness Meth fielded questions from Counsel for the Public Attorney Pappas. His testimony focused mainly on potential negative effects that could occur due to road closures. Susan Schibanoff, an intervenor in this Docket, discussed pre-filed testimony in which Mr. Meth stated that property values will be adversely impacted. Ms. Schibanoff brought up a prior transcript from the Applicant's expert, stating that they didn't believe there would be any impacts to property values. Ms. Schibanoff asked if that statement changed the witnesses' mind. Mr. Meth stated that he didn't think it would be possible that the project be built without property values being diminished.
Mr. Meth, a Selectman in Franconia, was asked by Attorney Needleman, counsel for the Applicant about a letter that was sent to Franconia. The letter stated a desire by the applicant to enter into an MOU (Memorandum of Understanding) with the town. The Town of Franconia decided not to engage the Applicant at all. Attorney Needleman asked Mr. Meth whether he understood that all of the concerns with the project that he had conveyed previously during the day's hearing were meant to be addressed by entering into the MOU that the Applicant attempted to negotiate.
Attorney Needleman asked why Franconia did not choose to come back to Applicant and say they declined to negotiate, but if the project were approved, that Franconia should have an MOU in place, to mitigate the concerns that the town had with the project. Mr. Meth re-affirmed Franconia's unwillingness to negotiate with the Northern Pass Project. Attorney Needleman continues to extend the witness and the Town of Franconia an open invitation to discuss any issues they may have, but Mr. Meth says that the town will likely not revisit their decision.
Attorney Needleman then asks Mr. Meth if there is any evidence available that shows that a high-voltage transmission line next to a highway has resulted in decreased property values. The witness states that he does not have any evidence or figures to show this. Attorney Needleman then follows this question by asking if there are any empirical examples or evidence, whatsoever, to show the Subcommittee that his concerns are well founded. Mr. Meth stated that he does not.
The majority of the hearing was spent with examination of the Bethlehem-Plymouth Abutters Group. During direct examination of the witnesses, Witness Palmer drew several sustained objections, and rebukes from Chairman Honigberg for attempting to project his opinion as facts pertinent to the case. Most of the objections were an attempt to draw legal conclusions and to introduce new evidence into his testimony that should have been included with his pre-filed testimony.
Mr. Palmer presents a statement about the potential dangers of fly ash. Attorney Needleman asks whether witness Palmer is aware of any effort by the EPA to reverse their determination; that coal ash, when disposed of properly, is not a contaminant. Mr. Palmer did not directly answer the question. Attorney Needleman then presented the EPA's coal ash reuse procedure. A document that shows the EPA's ruling that coal ash can also have beneficial uses when encapsulated. Attorney Needleman stated that Mr. Palmer's understanding of what kind of coal ash material will be used on the project is inaccurate, and asks whether Mr. Palmer has any information to show that the NPT would be using non-encapsulated materials. Mr. Palmer could not provide any such information or evidence.
Mr. Needleman then presents the DOT's construction initiatives in an exhibit, and presents a survey in which 46 DOTs noted that fly ash was used by their agencies in structural concrete or concrete pavements. Attorney Needleman then asks whether Mr. Palmer has a single example of fly ash doing the kind of damage he claims it will do, should the project be constructed. Mr. Palmer said he did not.