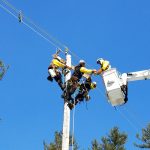 Concord, NH – Monday marks the beginning of the final two weeks of SEC adjudicative hearings to determine the future of the Proposed Northern Pass Project. Monday's hearing saw testimony about mainly visual and property impacts of the NPT. Witness panels included Municipal Group 1-South, the Society for the Protection of New Hampshire Forests (SPNHF), and the Deerfield Abutter Group. The end of the hearing saw a change in procedure as witness Jeanne Menard was allowed to guide her own rebuttal of previous testimony by the applicant regarding appraisals of property values.
Beginning the day, direct examination of the witness panel from Municipal Group 1- South saw intervenor Kris Pastoriza discuss a soil sample that she claims to be hazardous, which she then asks if the SEC would like to see, as she had it with her in a bag. Chairman Honigberg responded that if the witness wanted the SEC board to see it, they would be happy to take a look at it.
Following direct examination, Attorney Pappas, Counsel for the Public began his line of questioning, beginning by asking about property values in Easton, and when they were last assessed. It is stated that they are in a constant state of assessment by a private assessor, the next being in two years. With this private assessment, it was stated that the assessor has not made any calculation for a potential decrease in property values due to the proposed project.
During the Deerfield Abutters Group questions to the witnesses, Jeanne Menard (Who later would be on the witness stand with the Deerfield Abutters Group) brings up the Easton Conservation Commission's communications with Eversource. Easton stated that they were disappointed in Eversource's supposed 'refusal' to create any wildlife crossing corridors in the easements in Easton. After an objection by applicant's Attorney Needleman, Chairman Honigberg interjects to Ms. Menard's explanation of her line of questioning, he remarks that the transmission line will be buried through Easton, rendering the need for crossing corridors useless. Ms. Menard admitted that she was mistaken and concluded her questioning.
During Attorney Needleman's cross of the witness panel, he asks about a line of questioning by Attorney Pappas, where it was established that the witnesses believed that property owners would seek abatements if the line went through Eastman. Attorney Needleman asked if there was any information to support this claim, the witness says no, he had just heard people say they would seek abatements. Attorney Needleman pressed further whether there was any specific evidence to support the conclusion, the Witness again said no.
Attorney Needleman then presented an Associated Press article dated February 7th 2011, in which witness Ms. Pastoriza is quoted. He points to a quote in the article which Ms. Pastoriza states if the project can't be stopped, at least it should be buried and that would stop the "Ugly towers." Witness Pastoriza admits that she likely said this. Attorney Needleman then presents a letter from the Easton Conservation Commission to PSNH that stated a buried line is preferred. It seems as though at some point witness Pastoriza and the Easton Conservation Commission would have been partial to a buried project to stop adverse impacts.
During the Sub-Committee's questions to this Witness panel Commissioner Bailey brings up a specific incident with Ms. Pastoriza, in which Ms. Pastoriza had understood that the SEC was not reading pre-filed testimony. Upon submitting her own testimony, Ms. Pastoriza included a message saying that if the Committee Members did not respond, Ms. Pastoriza would assume that they did not read them. Commissioner Bailey then asks if Ms. Pastoriza realizes that it would be entirely inappropriate for sub-committee members to have discussions off the record with her.
Commissioner Bailey then follows this question by asking Ms. Pastoriza whether she has any scientific qualifications. Ms. Pastoriza says "No" and clarifies that her degree is in the arts. She is then asked how she knows that the soil sample she wanted to present to the SEC was contaminated with hazardous materials. She is asked whether the bag of soil she brought to and presented to the SEC board at the beginning of the hearing had been analyzed. She states that she did not have the resources to do so.
In the afternoon session of the hearing the Witness panel for the SPNHF was called, attorney Needleman questioned witness Will Abbott about an assertion that he made that the legal property rights of the SPNHF would be violated as the Northern Pass is currently proposed. Attorney Needleman asked if Mr. Abbott knew that court had determined that SPNHF's property rights would not, in fact, be violated. Attorney Needleman then asks about the Washburn Family Forest and impacts Mr. Abbott asserted the project would have on this property, Mr. Abbott states that he is not a visual impact expert. Attorney Needleman then asks if he's ever performed a visual impact assessment, Mr. Abbott answers no.
Attorney Needleman then turns his focus to an easement that the SPNHF had purchased near Little Diamond Pond. The purchase of this land, while meant to block the NPT, in fact made it necessary for the proposed project route to move closer to the pond. Mr. Abbott states that yes the project might have been less visible had the initial route been maintained.