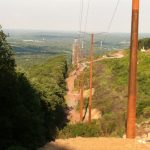 Concord, NH – After a week long Thanksgiving break, Tuesday saw another truncated day of SEC hearings, beginning at 1:00 pm and ending at approximately 6:00 pm. Tuesday's hearings focused primarily on individual witnesses' opinions regarding the scope and impact of the proposed Northern Pass Project. Witness Dr. Campbell McLaren, representing the Bethlehem-Plymouth Abutters Group was first to the stand, followed by Bruce Ahern also of the Bethlehem-Plymouth Abutters group followed by a witness panel Municipal Group 3-North.
During questioning from the Deerfield Abutter's group, Ms. Menard asked Dr. McLaren about a specific part of his testimony which he believes will affect wetlands on his property. He states that he's worried about guarding the wetlands, and had questions about whether or not protective mats would be placed to safeguard the area.
Environmental mitigation efforts by the applicant have been discussed at length in previous hearings, the applicant has committed itself to utilizing best practices as laid out by the "good forestry guide" provided by fish and game (http://www.ibew104.org/nh-sec-2015-06-adjudicative-hearing-day-57/). Ms. Menard further asked if Dr. McLaren had received any assurances to calm his fears for the wetland, Dr. McLaren responded that there is now work taking place on the other side of the road, which could spare the wetland he was concerned about.
During the PRLAC's questions to Dr. Campbell, Ms. Draper representing the PRLAC asked Dr. McLaren what kind of mitigation efforts would he expect to protect his land. Dr. McLaren stated that he has not looked into it, because he doesn't think the project should be taking place at all.
Dr. McLaren stated multiple times that a large concern for him was the safety of people in potentially life threatening conditions. He believes that road closures could cause strain on emergency personnel attempting to rescue someone in a life threatening situation. When committee member Bailey asked Dr. McLaren how long it takes for an Ambulance to get to the hospital from the potentially affected area. Dr. McLaren responded that it could potentially take 20 minutes with clear roads. Dr. McLaren fielded a question about how long it might take someone to die of a heart attack, a scenario he had previously referred to, he stated that it would depend but time is of the essence.
Intervening witnesses Barbara Lucas, Daniel Moore, Kenneth Kettenring, and Neil Irvine were called to close the day as Witnesses for Municipal Group 3 – North. Attorney Whitley examined the witnesses directly. The panel was asked if they were aware that testimony from the Applicant's expert Dr. Shapiro showed significant tax benefits that were possible from the NPT. The witnesses stated that they were aware of the tax savings estimation. Attorney Whitley also asked if there were another methodology used to evaluate the project in their area that showed a better result, would it change their mind? Witness Irvine stated no, though the witness panel did agree that they would be open to further communication with the Applicant.
During Counsel for the Public's questioning of the witness panel, Attorney Aslin asked the panel how they have based their conclusion that a series of locations that were represented should be labelled as having unreasonably adverse impacts. The witness stated that it was based on his opinion. In the picture that was referred to, the tower in question could not be seen from that location. Attorney Aslin then asked about a suspected 10-50% decrease in property values, Witness Irvine affirmed his belief that depending on the site specifications, he expected a 10-50% decrease in property valuation. When Attorney Aslin followed up to ask if he had done any kind of quantitative analysis for the net loss to property value if the project was approved, Mr. Irvine stated that the percentage he came up with was just his opinion.
Attorney Walkely representing the Applicant asked Ms. Lucas first about a summary of correspondence between the Applicant and the town of New Hampton, Ms. Lucas agreed that it the summary looks accurate. Ms. Lucas, however claimed that she did not know that past the summary of correspondence there had been further outreach from the Applicant to individual citizens and businesses in the town of New Hampton. Attorney Walkely then asked about the panel's concerns with lack of specificity in the MOU discussed with the town of New Hampton, she asked whether they had submitted anything to the applicant addressing any of the problems in the MOU. The panel claimed that they like their town the way it is, and that they had not submitted anything about problems they had with the MOU.
Attorney Walkely asked Mr. Irvine on the witness panel whether it was correct that the town of New Hampton was not open to discussion if the applicant is not able to agree to an all monopole design through the town. Witness Irvine states that the town is always open to discussion, but if that were the case, they would have to figure out how to live with above ground construction. Attorney Walkely then asked Dr. Kettenring if he would agree that the project has never made the assertion that due to ground and soil conditions the burial of the line was not possible.
Furthering the witness panels reliance on local opinion, Attorney Walkely asked Mr. Irvine if the town board looked at the Applicant's view shed maps created by Mr. Dewan to come to their conclusion about the visibility of structures. Mr. Irvine stated that no, they did not use the view shed maps, and that they based their opinion on "local knowledge." Attorney Walkely followed that answer by asking Mr. Irvine if the board used anything other than their opinion, or local knowledge to make assessments on potential project impacts. Mr. Irvine stated that for visual impacts that they didn't do any further analysis. They did not use anything other than their opinions and local knowledge, but asserted that they did a "lot of reading" that indicated that there would be an impact.