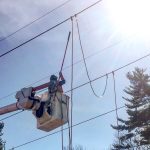 Concord, NH – Tuesday's SEC hearings saw a continuation of testimony from Mr. George Sansoucy, witness for the Municipal Group. Mr. Sansoucy was followed by Mr. Carl Martland, witness for Sugar Hill Historical Museum, The New Hampshire Preservation Alliance, and National Trust for Historic Preservation. While Mr. Sansoucy answered questions regarding property values, and energy capacity, Mr. Martland was called to answer questions regarding potential adverse visual impacts to project locations in New Hampshire.
Attorney Walker, representing the applicant continues questioning from Monday's hearing. Mr. Walker asks Mr. Sansoucy about a table he developed for diminution of property values that represents that diminution happens due to easements on the property, Attorney Walker maintains that this isn't actually the case. Mr. Sansoucy eventually agrees that diminution is not all due to easements on the concerned properties.
During the SEC panel's questions for Mr. Sansoucy, Mr. Weathersby asks whether there's enough capacity provided by HydroQuebec to power the NPT, Mr. Sansoucy estimates that there is still available capacity, maybe 500 megawatts, maybe 1000 megawatts. Which indicates that in his opinion there is enough capacity to supply the Northern Pass project.
Following Mr. Sansoucy's testimony, Mr. Carl Martland is questioned about his pre-filed testimony. During questioning by Attorney Pappas for the Counsel for the Public, Mr. Martland states that he did not do an analysis for duration and distance on the NPT.
Many questions are raised to Mr. Martland about Scenic Byways in New Hampshire. During Attorney Riemers for the SPNHF's questions, Mr. Martland states, in his opinion, that All roads in Northern New Hampshire are in need of protection.
During the Deerfield Abutters group questions to Mr. Martland, Ms. Menard representing the group attempts to use an exhibit from a project dating to the 1980's to illustrate a point about incremental visual impacts, which draws a question from Chairman Honigberg, asking why the 40 year old report is relevant to this docket.
During the applicant's questioning of Mr. Martland, Attorney Needleman first asks whether Mr. Martland would like to change any answers in his testimony regarding anything he thought a previous analysis performed by Mr. Dewan had left out. Martland states that he did not read the February analysis. Though Mr. Martland admits that the visual impact analysis performed by Mr. Dewan was readily available for him to read in February, he had not read the report, and that he is not a visual expert.
Attorney Needleman then presents a number of "View Simulations" which Mr. Martland had previously developed and entered as evidence. During Attorney Needleman's questioning about these simulations, it became clear through several statements that Mr. Martland knew that some of the structures he used in the simulations were not the correct structures, and had even entered in some simulations showing purported structures in parts of the proposed projects that were to be put underground. This indicates that Mr. Martland had presented visual simulations which he deemed to be "unreasonably" adverse, yet the structures used in at least 5 of his presented simulations were not even the type of structures that the Applicant intends to construct at those sites.