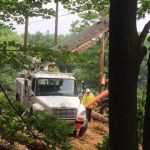 Concord, NH – This week's SEC adjudicative hearings conclude the Counsel for the Public's Market Economics Panel, the Brattle Group, turn on the witness stand. They are followed by the Counsel for the Public's Cultural and Historical Resources Expert, Patricia O'Donnell. O'Donnell, of Heritage Landscapes, LLC based in Charlotte Vermont, fields questions regarding the Northern Pass' extensive field research to determine the project's impact on cultural and historic sites in New Hampshire.
The Brattle Group began the hearings fielding further questions from the SEC panel, continued by a re-direct by Attorney Pappas, the Counsel for the Public. The questions continued Thursday's theme of determining the differences in the Brattle Group's independent report examining the Benefits of the Northern Pass Project in the current and future Clean Energy Market.
Following the Brattle group, Patricia O'Donnell is called by the public to expand on her pre-filed testimony, and additional supplemental testimony. Attorney Aslin, representing the Counsel for the Public began by asking the witness by asking her questions regarding the cultural landscape studies and effects tables that were submitted by the Applicant before the hearings began. Through Attorney Aslin's line of questioning, he clarifies that the witness did not perform studies on impacts on individual historical resources, rather O'Donnell looked at the project on a landscape level.
Later in the day several anti-project intervenor groups had the chance to ask O'Donnell questions, during the Society for the Protection of new Hampshire Forest's line of questioning, the witness stated that while they had the opportunity to do a quick field review of the project, they didn't perform the level of studies that they would usually do for cultural landscapes to define them, and to review their historic resources. The witness further stated that "I would be overstepping if I were to say I know a lot about the cultural landscape of New Hampshire."